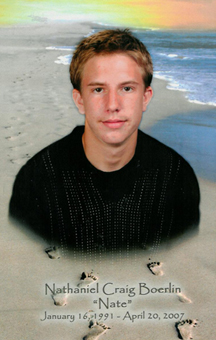 Our dearly beloved Nathaniel "Nate" Boerlin of Mickleton. left us early at the age of 16 on April 20. Nate was a sophomore and proud honor student at Kingsway Regional High School, and he was an admired percussionist for six years. He was a member of the Kingsway Regional Marching Band for three years and also a part of the Percussion Ensemble and Timpanist for the Concert Band. Nate was a two-year member of the Rowan University Side-by-Side Honor Band and the 2007 All-South Jersey Wind Ensemble.

He attended the West Chester University Summer High School Program for the past two years, and he was selected to participate in the West Chester University Young Artist Solo Recital. Nathaniel was the son of Craig and Lauren Boerlin, the grandson of "Grammie" Alberta Lucheske, "Jaz" Leonard Lucheske, "Grandma" Marjorie and "Pop Pop" Richard Boerlin and the "Best Big Brother" of Myles, Alaina, and Maria Boerlin. Nate will forever be missed and loved by family including numerous Aunts, Uncles, Cousins, and friends especially his best friend, "Enrique" Eric Deitz.

His hobbies included reading historical fiction, baseball, drumming, marching band, and hanging out on the swings with Eric. He¹ll be remembered always for making the best of every situation with his beautiful smile and his hard work ethic. We will always love Nate today and forever.
Click here for contributions from family and friends.